Gift of Freedom: How Ottawa Welcomed the Vietnamese, Cambodian and Laotian Refugees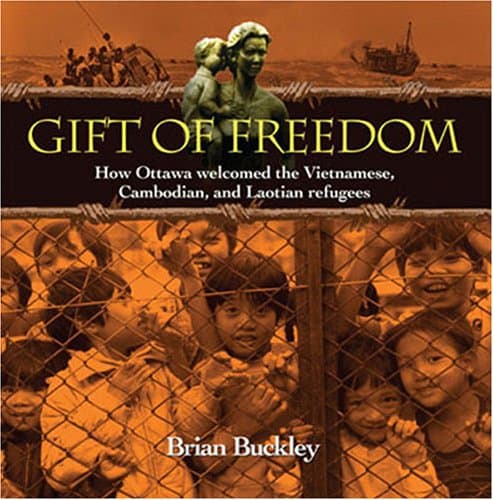 When tragedy strikes a stranger, how should we respond?
In the spring of 1979, as desperate refugees fled persecution and chaos in Vietnam, Cambodia and Laos, the citizens of Ottawa launched Project 4000 to resettle thousands of newcomers into the community. This bold initiative swept churches, temples, neighbourhoods, businesses and individuals into nearly four hundred sponsorship groups to provide necessary accommodation, money and emotional and practical support. Countless other volunteers throughout the region donated funds, medical services, housing, furniture and clothing.
Richly illustrated, Gift of Freedom explores the experiences of a people who arrived in Ottawa as refugees and went on to become successful and fully participating members of Canadian society. It reveals through interviews and anecdotes, the experiences of the Canadian sponsors who opened their homes, their businesses and their hearts to these strangers from another land.
About the Author
Brian Buckley was born in Montréal and educated in Montréal and Ottawa. He joined Canada's career foreign service in 1967 and retired in 1998 with the rank of Director General after postings in the Middle East, Europe, and the United States. After three years at Dalhousie University in Halifax he returned to Ottawa and began lecturing at Carleton University's Norman Paterson School of International Affairs. He is the author of several books and journal articles on foreign affairs and the news media, and Canada's early nuclear programs. He and his wife Mary Ann have five children and a growing number of grandchildren. In 1979-80 Brian and Mary Ann participated in Project 4000 as members of a sponsorship group in Ottawa's Alta Vista area.