Conflict Resolution and Peacebuilding in Laos : Perspective for Today's World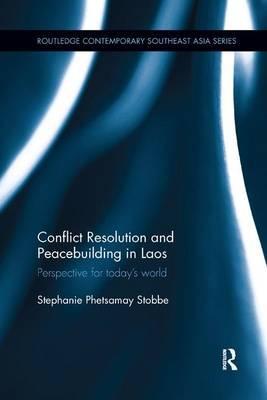 Using the case study of Laos, a small landlocked country in Southeast Asia that has seen some of the world's most brutal forms of poverty and violence, this book examines the power of traditional and indigenous conflict resolution systems as a tool for social justice. It explores how the conflict resolution mechanisms build infrastructures that support social harmony, and address larger scale conflicts within communities, nations and international arenas.
The book discusses how over centuries, foreign powers have polarised and used the ethnic groups of Laos to support their own agendas, and how in spite of this, the Lao people have consistently managed to recreate the peace and harmony that support their social relationships, whether that is within groups or between many distinct groups. Through the development and use of appropriate grassroots conflict resolution structures that do not require a formal court system and exists outside the political arena, they have been successful in resolving conflicts within and across cultural groups. The book shows that the conflict resolution systems of Laos are embedded in the fabric of ordinary, everyday life, and operate independently of the hierarchical structures that dominate governing institutions.
Highlighting how peace continues to work its way into existence, through elaborate mediation systems and rituals that bring people together, this book will be of use to students and scholars of Southeast Asian Politics, Peace Studies and War and Conflict Studies.